Books
Now available from Turquoise Morning Press:
Timeless love takes on a new meaning when soul mates are brought together through time and space.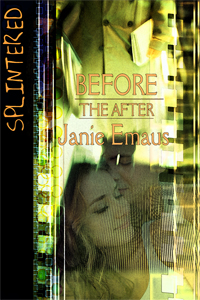 Like every goal-oriented twenty-something, Jessica Singleton, an aspiring filmmaker, is obsessed with finding her future as quickly as possible. Tick Tock. What she doesn't know is that the future is obsessed with finding her, too. Renn Porter, an agent with Time Traveling Matchmaker's Inc, blasts back in time - and into her life- in order to transport Jessica to the soul mate who has paid for this service...in the future. But things turn dangerous when it's revealed that Renn has been sent after his own soul mate. Jessica wants nothing to do with this strange guy and his crazy romantic notions. Who has time for a soul mate anyway? But tell that to her heart. Caught between two times, Jessica and Renn must struggle to stay alive. Falling in love is the biggest risk either of them has ever taken - because, as they are destined to learn, the very existence of Time Traveling Matchmakers, Inc. rests in Jessica's hands.
Now available in paperback at Amazon!
Also available from Turquoise Morning Press:
MERCURY IN RETRO LOVE - A Young Adult Novel
A story about crushes, conflicts and astrological confusion.
Finally, after years of making love predictions for her friends, fifteen-year-old astrologer, Emma Seigel, sees a boyfriend in her future. But there's one big problem. Mercury is heading for Retrograde in four weeks, and she sure knows what that means. It's like an astrological PMS. A disastrous time to start a new relationship.
Using her school newspaper column, Emmastrology, she sets a plan in motion and within a week lands hottie Evan Randolph as her boyfriend. She's a Taurus. He's a Capricorn. Both earth signs. What could be more perfect? But is he as perfect as her prediction claims him to be? The stars are telling her it's right. But her heart says it's all wrong.
Everyday her feelings are growing stronger for someone else, a Leo, so totally not the sign for her. And to make matters even worse, Emma's actions, caused by her unflinching belief in astrology, get her in trouble with her best friends in the whole world.
Time is running out. Can Emma straighten up this mess she's in before Mercury goes Retrograde again?
Now available in paperback at Amazon!
eBook available from Barnes and Nobel (Click here) and Smashwords (Click here)
The Paperback and eBook is available from Amazon (Click here).
Trade Paperback Print: 978-1-62237-003-0
Digital ebook: 978-1-62237-004-7